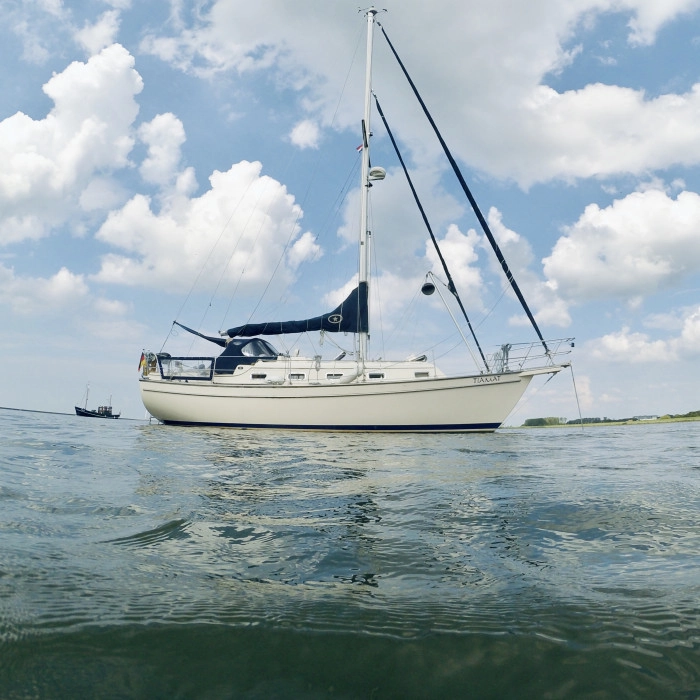 Our 32 ft home named TIAMAT
November 8, 2022
After an extensive research into what features we prefer and what looks we like, we scoured the sailboat market for the perfect boat. About a year later, we finally found our 32ft. home. Sailboats of this size weren't really on our list at first. But this one was different when we took a closer look. First of all, it's called Island Packet 32, but it's a 35 ft cutter with a bowsprit. So the first 3 feet are not for living in. But they are perfect for sitting on while sailing. And to attach the headsail to it.
Here is what we've looked for and why:
Cutter rig
The two headsails on a cutter rigged sailboat provide flexibility for different wind conditions. It's easy to reef when the wind picks up. And most of the cutters have a bowsprit which just looks beautiful. On the downside, cutter rigged sailboats are not quite as efficient to windward as a sloop rigged boat. But we can live with that.
Long keel
A long keel with an incapsulated ballast is stronger than a keel bolted to the hull. So if…no, when you run aground you'll be more on the safe side. Also the boat behaves better better with the long keel. You have more course stability and the boat forgives some of our sail and trim errors. But it comes with a cost. The maneuverability espacially backwards is not so great in tight places without a bow thruster.
35 to 38 foot length
The desired length of 35 to 38 ft (11 to 12m) seemed to be a reasonable compromise between enough space to live on and still manageable for a horthanded crew. And with more length also comes more costs as harbour fees and maintenance costs.
Ketch rig
We both like the appearance of ketch rigged boats and schooners. And they are also versatile in when it comes to choose an appropriate sail plan. But there are not that many boats out in the market with this rig type.
Classical, high quality interior
Fortunately, we both liked the classic ship like interior design over modern looks. It was important to us that the furniture is made of real wood not only plywood covered with plastic veneers. We wanted it as long-lasting as possible because we planned to live on that boat.