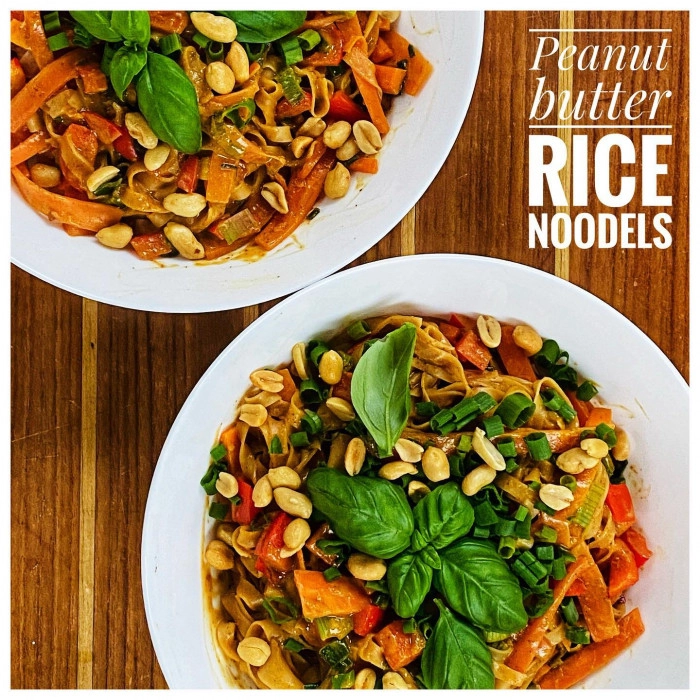 Peanut butter rice noodles
May 20, 2022
Our dinner tonight was inspired by a recipe from @goodeatings we found the other day.
We just stir-fried the carrots and the bell pepper before mixing it all together.
It was very good. Thanks, Malin 🙂
Recipe
2 servings rice noodles
1/4 cup peanut butter
1/4 cup soy sauce
1 tbsp rice vinegar
1 tsp toasted sesame oil
1 tsp maple syrup
1 garlic clove
1 bell pepper
2 carrots
1 spring onion
a handful of fresh basil leaves
0,25 cup peanuts, crushed
Preparation
Soak or cook your noodles according to package instruction.
Make the sauce by combining the wet ingredients as well as the garlic clove. Mix well to combine.
Slice the bell pepper finely and julienne the carrots. Stir-fry, than add the sauce.
Rinse the noodles and put it in the pan. Toss to combine. If you find the sauce is not coating the noodles nicely add 1 tbsp of hot water and toss again. Repeat this process until the noodles are nicely coated.
Serve in bowls and top with crushed peanuts, sliced spring onion and fresh basil.